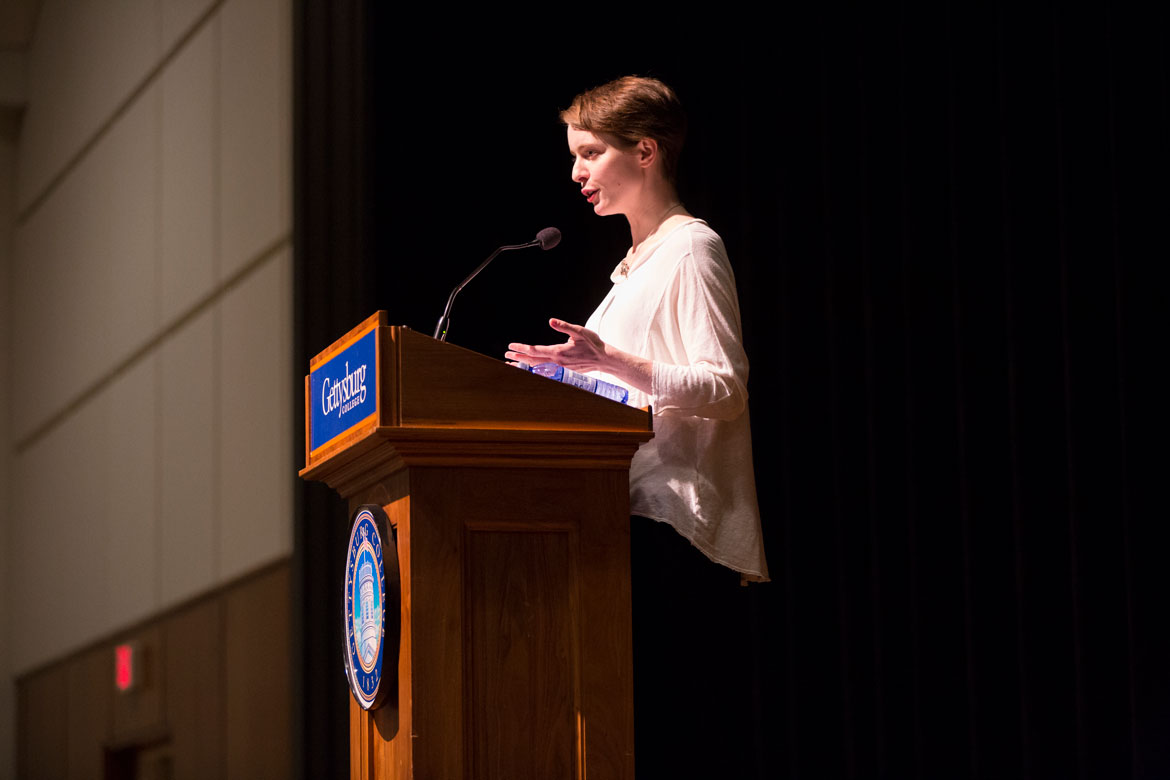 Every year, first-year students complete a common reading to help them acclimate to a new school year and become immersed in the Gettysburg community.
The author of this year's chosen book recently spoke to the Class of 2021 on the topic of what brings us together as humans, weaving in themes from her post-apocalyptic novel, Station Eleven.
"We're never satisfied with the basics," said Emily St. John Mandel. "Food, shelter, water...we always want something more than that." Mandel described a secret underground library that was recently discovered in war-torn Syria. Locals created the library to protect books from being destroyed so they could continue their education. "[This something more] can be loosely referred to as civilization," she continued, pointing to other recent examples in the news of how humans continually strive for more than just the basics. "So we'll collect books, start secret libraries in war zones, sing songs during hurricanes—[these things] remind us of our humanity."
As part of her remarks, Mandel explained how she was fascinated by thinking about what types of art people would cling to during challenging times, and in the absence of technology. "What would we miss, what would we long for, if all the trappings of civilization were to fall away?" In mulling this over with her husband, he said he'd want to keep alive what was best about the world. Mandel said to her, that meant Shakespeare. So in Station Eleven, a traveling troupe of musicians and actors keep humanity alive by performing Shakespeare's plays after a worldwide pandemic.
"During times of abrupt change, we turn to the familiar," said Mandel. "Shakespeare's plays [in this case] served as a sort of homecoming."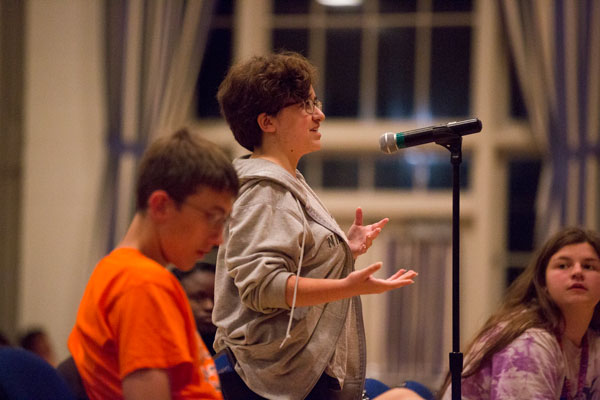 Similarly, the annual first year reading serves to "bring the first-year class together to have these types of conversations," said Vice Provost Jack Ryan prior to Mandel's remarks. Gettysburg's extended orientation program, called Charting Your Course (CYC), is designed to help first-year students learn about, engage in, and plan their Gettysburg experience.
After her remarks, Mandel answered questions from the audience and signed books. First-year students met in smaller groups later in the week to continue the discussion.
Mandel, originally from Canada, lives in New York City and is the author of four novels. Station Eleven, her most recent book, was a finalist for a National Book Award and the Pen/Faulkner Award.