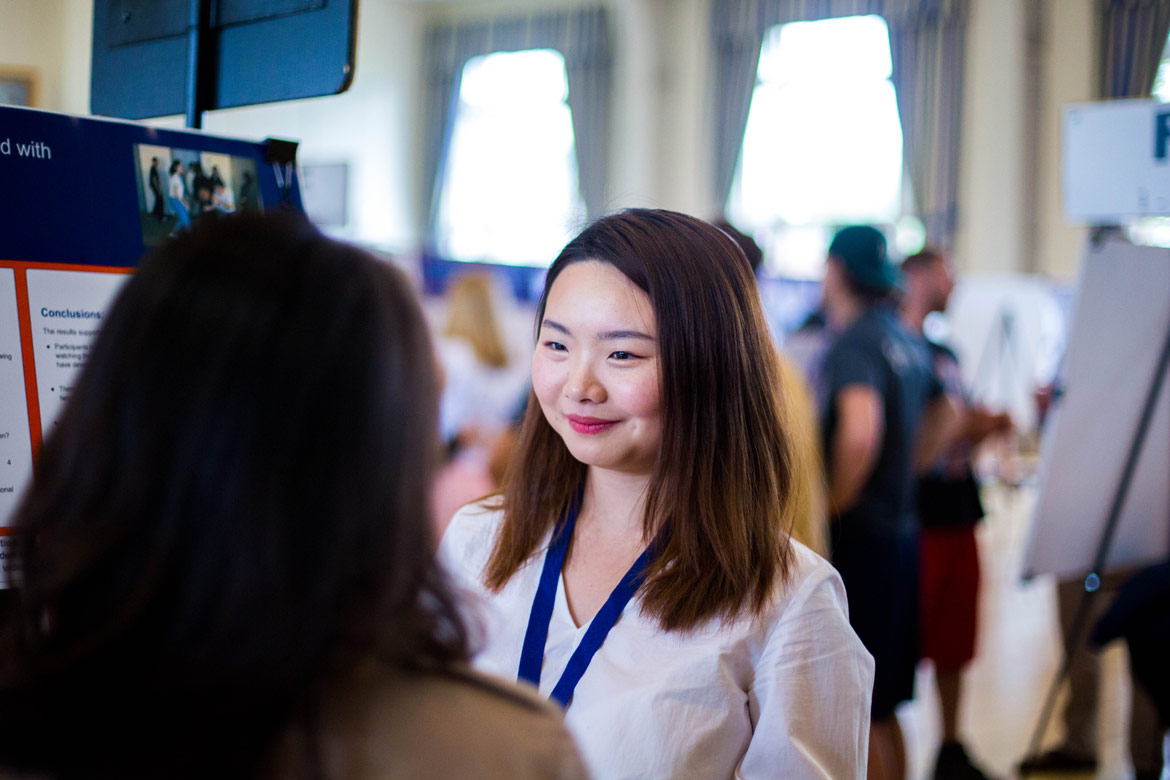 Through the eyes of seniors: The impact of research
Over half of the students at Gettysburg work with a faculty mentor on research by the time they graduate. In addition, many students engage in projects abroad, in community work, and other activities. In culmination of this work, the College hosts an annual Celebration, a two-day colloquium featuring undergraduate research, creative activity, and community engagement.
Last year, 278 students—from first-years to seniors—presented 186 projects ranging from poster presentations to film presentations and musical performances from across 32 departments and programs.
Every year the event showcases the intellectual curiosity of our community and—through the scope of projects and intersection of subjects—highlights the power of drawing from multiple disciplines to solve the important issues of today.
Read more about the perspective of five students from the Class of 2017 and how their unique research experiences translate to work in a variety of roles and fields.
---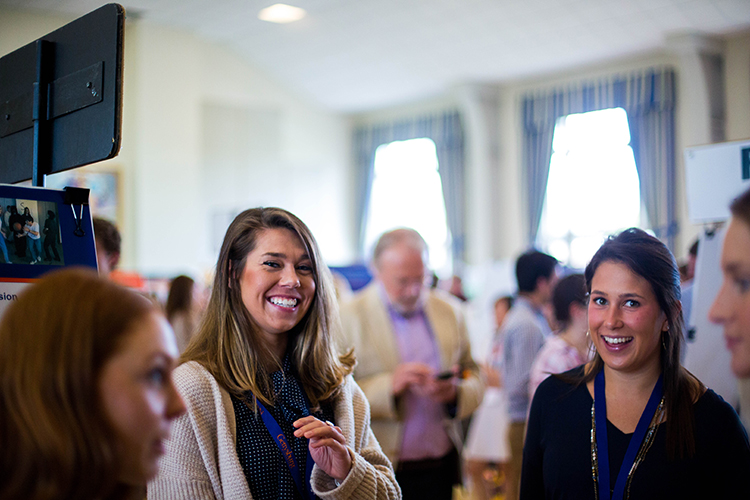 Carlin Baker
Psychology major and business minor

After graduation: Working as an investment operations associate at Cambridge Associates in Arlington, VA.

"Throughout my time at Gettysburg, most of the research I have conducted has been psychology-based. The most enjoyable part of the research process is that it really has no limits. My professors have been really lenient in encouraging me conduct research that speaks to my interests. I've had the freedom to conduct research with different age groups– children and college students– and also in several different areas within the field of psychology.
"Although conducting research on a topic and finding insignificant results can sometimes be discouraging, these results can often lead us to unexpected conclusions and provide us with knowledge that can be used in future studies. I think the most important things that I've learned are to have a keen eye for detail and to never get discouraged. These are lessons that I know will translate into my future career aspirations and into my daily life after college."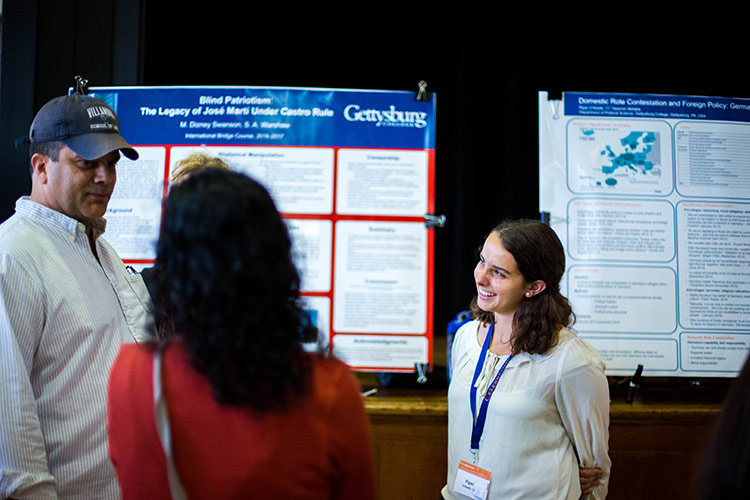 Piper O'Keefe
Globalization studies and political science double major
German studies minor
After graduation: Completing her 27-month service as a Peace Corps Volunteer, working in secondary English education with the Let Girls Learn initiative in Sierra Leone.
"When I studied abroad in Germany the fall of my junior year, I witnessed the refugee crisis first hand and was able to help to start a program coordinated between my study abroad program and the teaching program at Universität Heidelberg, where I was studying, to teach German to refugees awaiting resettlement. Building off of this experience, in Spring 2016, [political science] Prof. Yasemin Akbaba emailed me, as I was studying abroad in Rwanda at the time, about co-authoring an abstract to submit for consideration for the International Studies Association (ISA) annual conference, which is one of the top International Relations conferences in the world.
"Our abstract was selected, so we completed and presented our research at the ISA this February, where I was one of the only undergraduate student presenting. We are still doing research on the topic, planning on submitting our paper for publication this summer. This has been the most incredible experience, allowing me to build off of what I witnessed and experience while I was abroad, as well as what I have learned [studying refugee policy] as an Undergraduate Fellow with The Eisenhower Institute this year."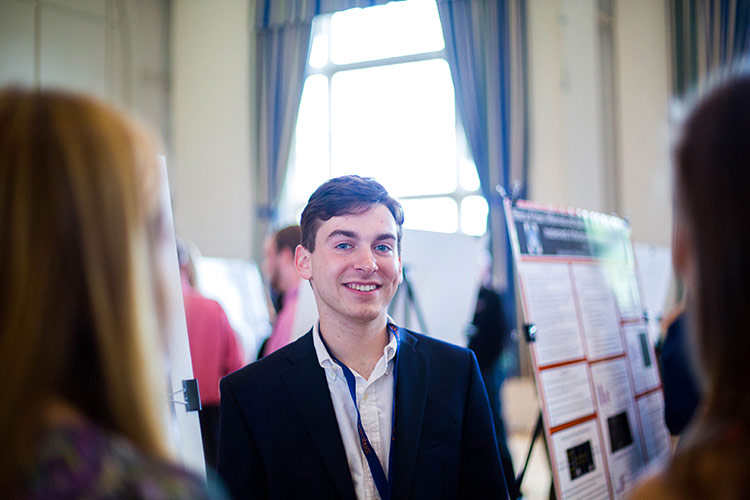 Thomas Lazo
Psychology major and writing minor

After graduation: Teaching special education in Ohio as part of Teach For America

"My favorite part of the research process was the independence I was given to create, conduct, and analyze my studies. This autonomy helped me learn even more about the intricate processes of research, and fully understand my topic by diving into it myself while the staff facilitated and provided me with support.
"Research has taught me how to manage my time, pay attention to detail, stay organized, and be patient. Conducting research and teaching special education are similar in the sense that not everything will always go as planned, so it takes a certain amount of flexibility and resilience along with a determination to learn from your mistakes in order to succeed. Research has prepared me to think critically, and dissect every aspect of the issue at hand before reaching a conclusion, which will be beneficial when facing the challenges my students encounter on an everyday basis."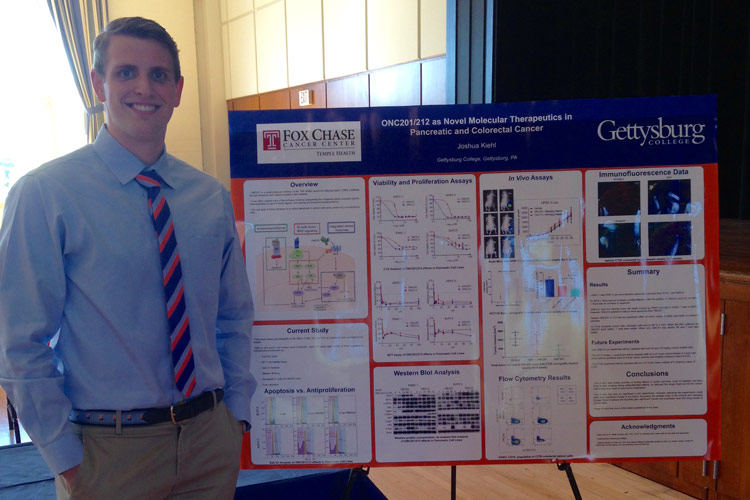 Joshua Kiehl
Biology major and chemistry minor

After graduation: Pursuing an M.D. at Temple Medical School

"My favorite part of research was putting together all of the pieces that I found over weeks of work to paint a final picture that leads you to a solid conclusion, or guides you to future studies. The work is very exciting because you don't exactly know what the data is telling you until you put it all together.
"At the Fox Chase Cancer Center, which is a hospital/research center run by Temple, I worked on two projects which translated to papers pending publication. While I was working on my research, I was also shadowing a physician in his colorectal cancer clinic. I got to experience the intensity of a cancer ward, where every day people were fighting for their lives. The research is what goes on behind the scenes, where they develop and test the therapeutics to be used in the clinic. However, in the hospital rooms, the research came to life because I got to see the people the drugs can help. Cancer is difficult because it is very complicated, and progression of the disease can change suddenly and drastically. People's lives are in the hands of physicians and researchers. Working with people like that solidified my desire to enter the field, and made me want to be the person people look to when they need help."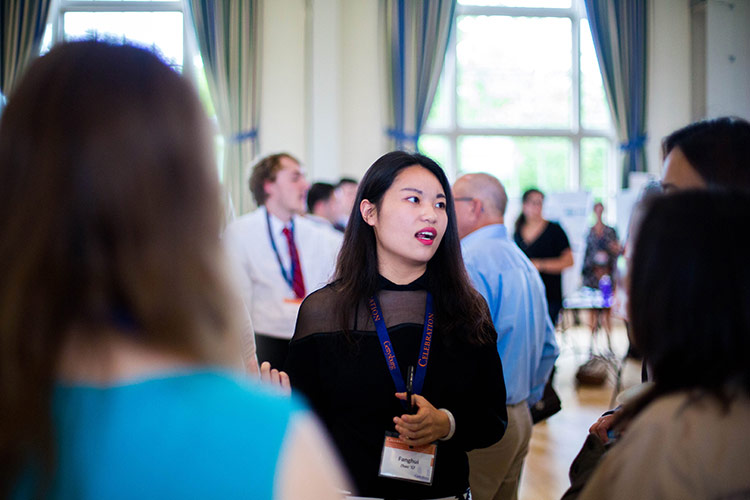 Fanghui Zhao
Psychology major and sociology minor

After graduation: Completing the M.A. program in mental health counseling at Boston College.

"I enjoy the process of analyzing the data to finally uncover the myths of my research topic. I see every research as an adventure, in which we may or may not find the results that support our hypothesis, but we know we are one step closer to the truth through the adventure.
"I think the firm knowledge in both psychology and understanding of diversity I received from our psychology classes will benefit me in my future career in counseling. My time at Gettysburg also provides me with valuable research experience that helps me be more competitive in pursuing higher education."
Founded in 1832, Gettysburg College is a highly selective four-year residential college of liberal arts and sciences with a strong academic tradition. Alumni include Rhodes Scholars, a Nobel laureate, and other distinguished scholars. The college enrolls 2,600 undergraduate students and is located on a 200-acre campus adjacent to the Gettysburg National Military Park in Pennsylvania.
Photos by Phuong Le '20, photo intern
Contact: Carina Sitkus, senior assistant director of communications, 717.337.6803
Posted: Wed, 10 May 2017

Next on your reading list
In his words: Ben Pontz '20 and the "essence of experiential learning"
---
The antidote for ignorance: A liberal arts education?
---
Creating social change: Ty Abdul-Karim '18
---
Share this story: