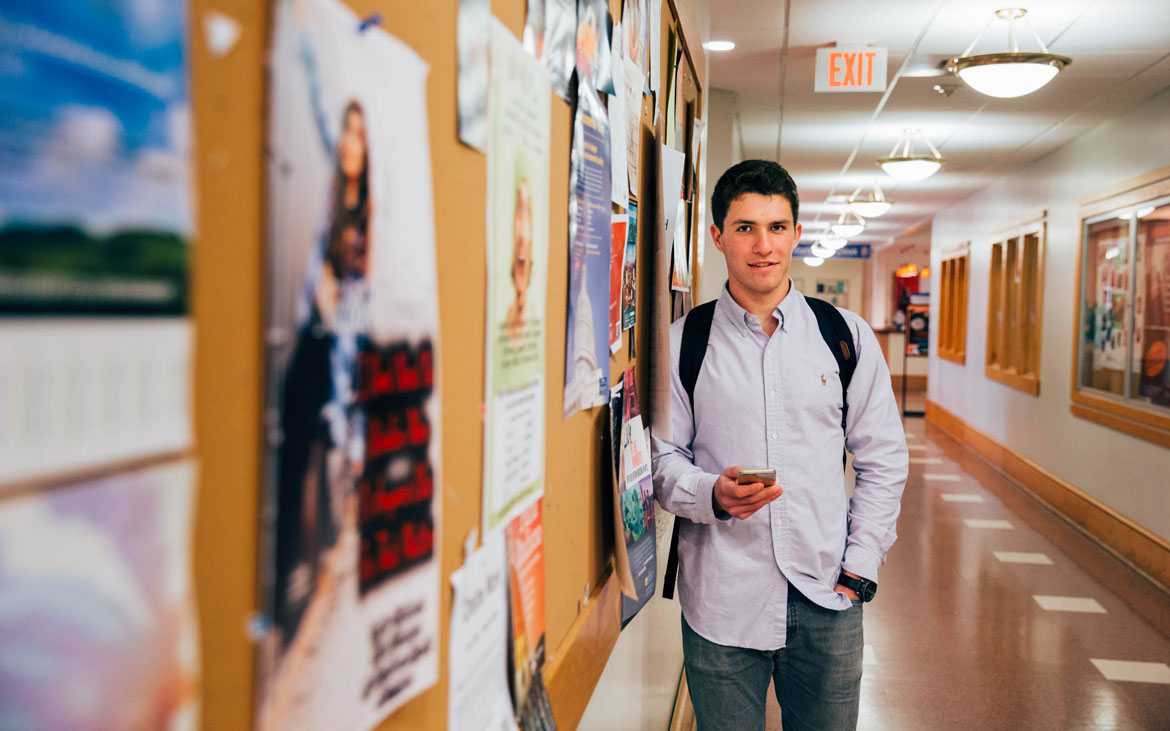 How to build an app in 5 steps
As the number of iPhone users increases around the world, the audience of app consumers—and the amount of time they spend using those apps—is becoming larger than ever before. App purchases are expected to generate over $77 billion dollars in revenue and over half a million jobs in the next year, too.
Just ask political science major and business minor Noah Pompan '18, a 2016 Entrepreneurial Fellowship winner and co-founder of BOOM, a social media app that connects college students with real-time events from their peers, school, and local businesses.
"[Co-founder Tyler Peterson] and I decided on a mobile app because we wanted to create a seamless platform for college students to share and receive experiences authentically and on the go," Pompan said. "The fact is that most college-aged people get most of their information through their phone, and for that exact reason, a mobile solution is ideal."
However, it's a long road from conceiving an app idea to turning it into a viable business venture. According to Pompan, there are a few basic first steps.
1. Be open to new ideas.
"One of the biggest things for me early on was signing up for a weekend-long workshop on entrepreneurship at Gettysburg," said Pompan. "I saw a poster for the Start-Up Experience, and after coming off of a summer internship working in finance, thought I'd sign up and see what it was about."
The workshop, led by the Start-Up Experience co-founder Henrik Scheel, was an intensive dive into the entrepreneurial mindset with hands-on training to develop practical skills necessary for kickstarting a business venture. Pompan signed up in order to learn something new, with no real presumption about how he would apply this to his life.
"Henrick really got me excited about entrepreneurship," Pompan explained. "He led us through some of the major steps of the process. It was a ton of work, but I really enjoyed it because I was working for myself. There was an immediate payoff."
It was through that workshop that Pompan learned of the Entrepreneurial Fellowship and developed the framework and skill set in order to turn his interest in entrepreneurship into a formative experience.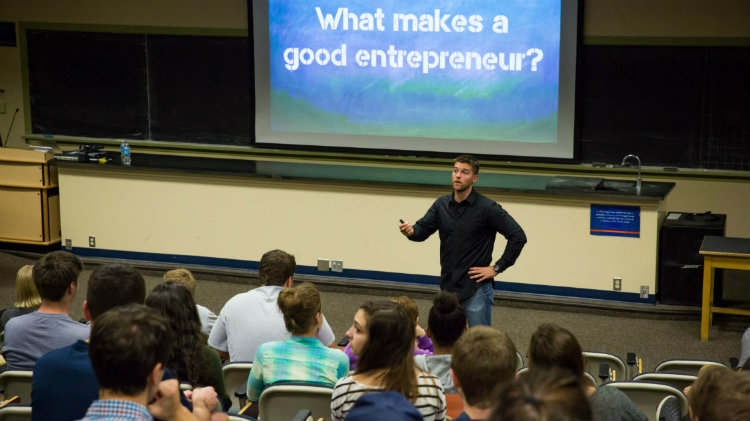 2. Celebrate the small victories.
It was a few weeks after the workshop that Pompan was at home, talking with his future business partner and now BOOM co-founder Tyler Peterson, a current University of California, Santa Barbara campus junior. They were talking about how they felt like they never knew what events were being held on campus, and an idea began to take form.
They worked for the next few months honing in on and perfecting their business plan, refining their pitch until the time came to present their idea to a board of alumni, parent, and faculty advisors. If successful, they would be provided with the resources, mentoring, and—most importantly—$10,000 in seed money they needed in order to launch their venture. If they were not successful, it was back to the drawing board with their concept.
"We worked on this right up until the time came to present our plan," said Pompan. "We were so proud of this because we had worked so hard on it."
They found out later that day that they had been awarded a fellowship.
"We celebrated that night, we were so happy," Pompan explained. "Celebrating the small victories is important when you are working for yourself, but you can't let that celebration inhibit your work. If anything, we had to get back to it and start working even harder the next morning."
3. Build a team.
"We're really new to this, so having access to mentors is incredible," Pompan explained. Through the Entrepreneurial Fellowship, he and Peterson were connected with alumni mentors whose expertise transcends entrepreneurship and key industries critical to BOOM's success.
"We were assigned to work with three key mentors; Bob Allen '89 has a technical background, Nick Johnson '90 is in digital ad sales and is probably one of the most well connected people I've ever met, and Tess O'Brien '06 is serial entrepreneur in the environmental space who has a ton of experience building and managing businesses," Pompan stated. "Being able to work with those three mentors from Gettysburg was huge. Having that exposure, support, and knowledge early on—that is what got us off the ground."
Outside of their team of mentors, Pompan and Peterson realized that they needed to bring people on board who have the technical know-how to turn their app idea into a reality.
In June, BOOM partnered with Studio Eighteen, a Venice Beach-based venture studio. Quickly, they brought on two team members whose skill set and experience fit nicely within their vision: lead engineer Greg Pynes and project manager Paul Cochrane.
"They wanted to work somewhere where they could have a real impact on the product they were creating," Pompan explained. "We are really fortunate to have such a great team that has really bought into this vision. They need us to hustle, and we need them to develop."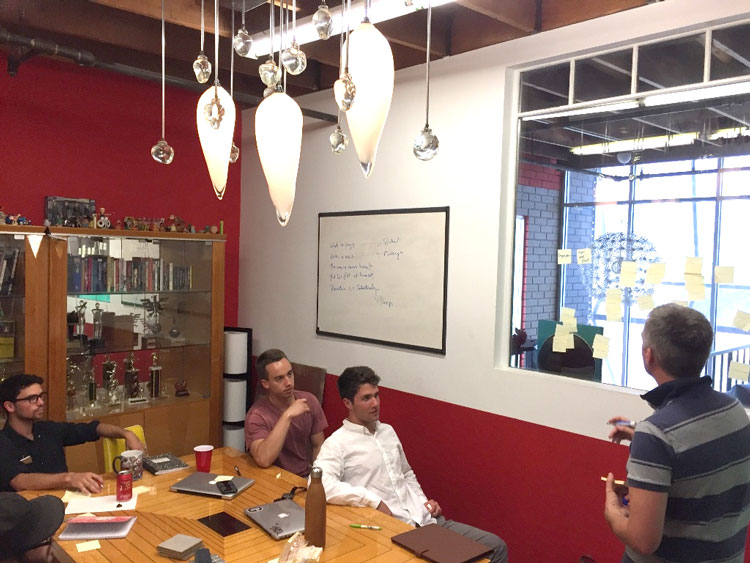 4. Network, network, network!
Once they began to develop their product and launch their business, it became all about the networking for Pompan and Peterson. It was easier, too, given the doors that their mentors were able to open for them.
"Nick Johnson in particular put us in touch with the biggest digital ad companies in the country," Pompan said. "He reached out to a few of his connections and was even able to put us on a call with the president of Foursquare, a leader in mobile location-based apps."
They pitch their product, looking for feedback, insight on best practices, connections, and leads on potential investors.
"Tyler and I go to a lot of networking events every week just to meet new people and get a meeting with them on our schedules," Pompan explained. "The big thing here is really being open to critique and to people poking holes in your ideas. If you aren't comfortable with that, you are going to get blown out of the water and really fail."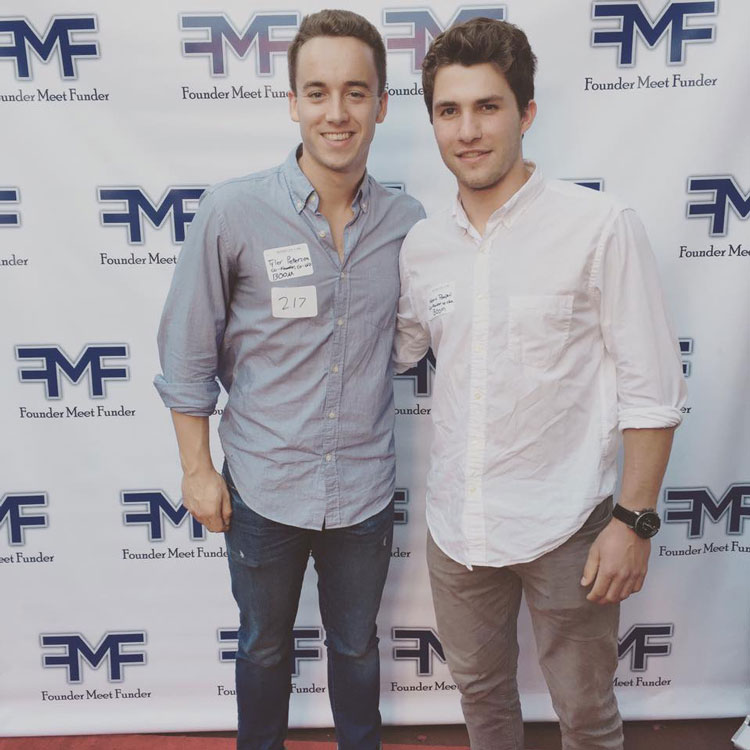 5. Know when to evolve and when to stick to your vision.
With as many meetings as Pompan and Peterson have each week, they've received advice that runs the gamut.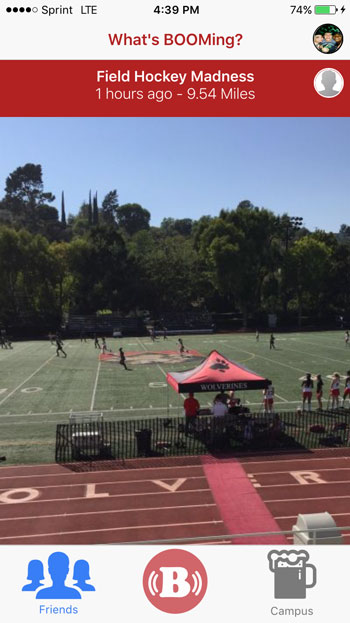 "People tell us we suck; people tell us that we are really great," Pompan said. "We've even had a few people try to buy us out and have us work for them. We love it, but we have to know when it is important to refine our plans based on the feedback we receive and when to take that feedback with a grain of salt."
After devoting their summer to the development of BOOM, Pompan and Peterson launched their app at UCSB campus in the fall. They closely monitored the user experience, refined their app, and have launched it on the Apple App Store this spring.
"It's been exhausting, but every minute of it has been enjoyable, too," Pompan said. "Still, we're just taking baby steps now. There's so much work left to be done, but when you are working for yourself and your vision, it really is exhilarating."
Founded in 1832, Gettysburg College is a highly selective four-year residential college of liberal arts and sciences with a strong academic tradition. Alumni include Rhodes Scholars, a Nobel laureate, and other distinguished scholars. The college enrolls 2,600 undergraduate students and is located on a 200-acre campus adjacent to the Gettysburg National Military Park in Pennsylvania.
Contact: Kasey Varner, assistant director of communications, 717.337.6806
Posted: Wed, 8 Mar 2017

Next on your reading list
Econ majors to learn from Chris Matthaei '01 gift, innovative software
---
Alumni honored for career success, dedicated service
---
Enhancing our campus, fostering new learning
---
Share this story: