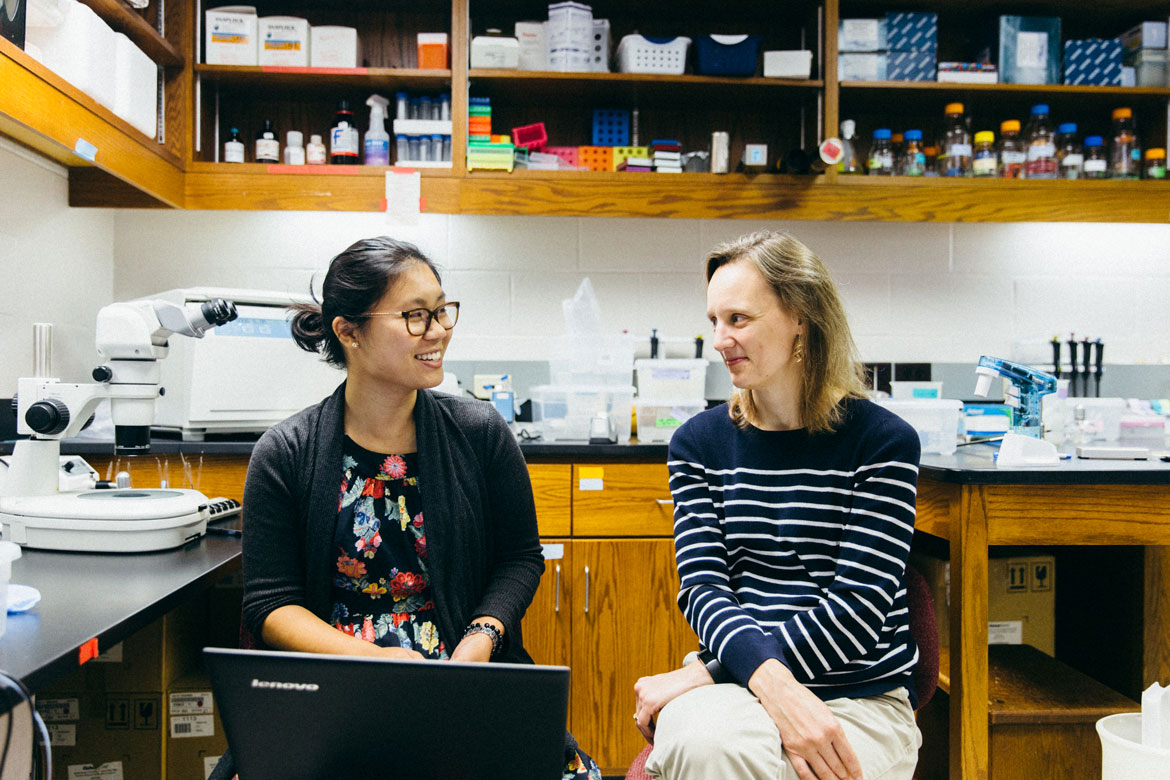 Blurring the line between science and art: Zoe Yeoh '18
"People have stereotypes of what a lab should be and what art should be; I want to attempt to turn that on its head," said Zoe Yeoh '18, an artist and scientist from Southeastern Connecticut. Laboratories are often characterized as "sterile, immaculate, static." Yeoh's artwork redefines the lab as a warm and inviting space that fosters creativity and imagination, while idealistically representing nature.
Yeoh, a biochemistry and molecular biology major, came to Gettysburg in pursuit of continuing her art, but was attracted to the laboratory. "I was really drawn to the sciences because I wanted to research medicinal compounds found in plants and fungi," said Yeoh.
However, as Yeoh's commitment to her research increased, she was not willing to sacrifice her love for art. She declared a studio art minor, and has managed to use her studies for inspiration: to create beautiful images.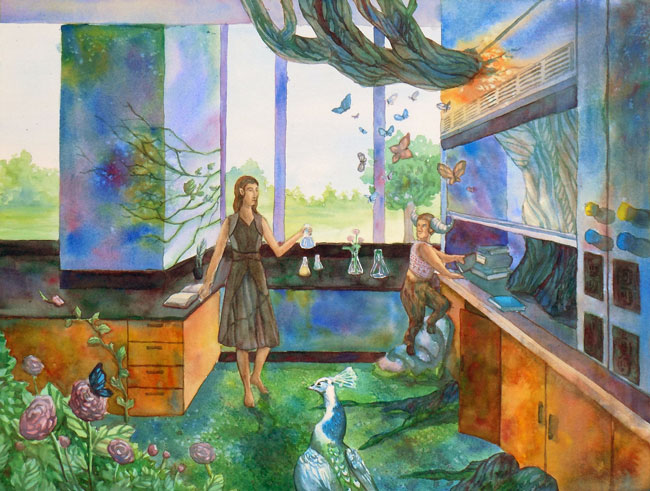 Yeoh's work is distinguished by its use of colored pencil, watercolor, acrylic, and other media. Her paintings are colorful, often including a variety of palettes to enhance the image. Her artwork is distinguished by the message that she hopes to portray. "These paintings attempt to make sense of the dichotomy between man and nature," said Yeoh. "In almost all the spaces we occupy, humans live as though we are fighting a war with nature." Her paintings present a harmony to this issue while introducing imagination and wonder.
"Art has influenced my personal interests in science, and vice versa," said Yeoh. "I could bring what I was learning in my science courses into art."
Yeoh's images portray her "strong interest in environmental concerns, particularly regarding the negative impact that humans have on the environment." She hopes that people who see her artwork will "start a dialogue," and leave with new ideas about the two disciplines. Specifically, what does the laboratory reveal about "interconnectedness between nature and human-occupied spaces? What would happen if we simply learned to live with nature rather than against it?"
View a slideshow of Yeoh's artwork.
"One of Zoe's strengths as a scientist is her creativity and her ability to think across scientific disciplines," said Biology Prof. Jennifer Powell, Yeoh's mentor. Yeoh is currently working with Powell on research about the innate immune system and oxidative stress responses in C. elegans, a type of nematode. "Zoe has spent two years in my lab studying the connection between an animal cell's response to bacterial infections and its response to chemical stress," said Powell.
In response to this, Yeoh said: "I would not be the scientist I am today without Prof. Powell's influence."
So far, Yeoh and Powell have discovered that, through genetics experiments, two proteins called FSHR-1 and SKN-1 may share a role in activating the oxidative stress response.
In addition to art, Yeoh has also managed to integrate her hobby of food foraging into her research interests. This passion provided the inspiration for a summer research project at the University of California-Riverside. Yeoh worked with students from around the country at the Center for Plant Cell Biology, or CEPCEB. Her project focused on the Lateral Organ Fusion 1 (LOF-1) gene in plants.
"When this gene was knocked out of the plant, it had an interesting fusion phenotype, which may have impacts on crop yield," Yeoh said.
Yeoh presented this research at the Emerging Researchers National (ERN) Conference in STEM in Washington, D.C. Her presentation would later win first prize in the plant category. Yeoh admits this experience gave her confidence in presenting her research, and energized her studies.
Yeoh is planning to pursue a Ph.D. in immunology or molecular biology. She hopes to one day work in the biotechnology industry. Having the opportunity to be well-rooted in the chemistry, biology, and art departments has provided Yeoh with an interesting perspective of the three disciplines: "It's improved my skills in seeing the connections between seemingly disparate fields," she said.
Founded in 1832, Gettysburg College is a highly selective four-year residential college of liberal arts and sciences with a strong academic tradition. Alumni include Rhodes Scholars, a Nobel laureate, and other distinguished scholars. The college enrolls 2,600 undergraduate students and is located on a 200-acre campus adjacent to the Gettysburg National Military Park in Pennsylvania.
Photos by Khun Minn Ohn '19

Article by Katherine McPartlan '18, communications and marketing intern
Contact: Carina Sitkus, senior assistant director of communications, 717.337.6803
Posted: Wed, 11 Oct 2017

Next on your reading list
Eight faculty members earn tenure
---
Diversity, inclusion, and difficult conversations
---
Biology Prof. Veronique Delesalle awarded $100,000 grant from Pittsburgh Foundation
---
Share this story: