Cheery Huang '17 visits Chinatown around the world to learn about her heritage
There's something about modesty that speaks louder than self-promotion ever could. In conversation, Cheery Huang '17 speaks humbly of her accomplishments—though her enthusiasm and passion for sociological research and Latin American culture are undeniable.
"Sociology and Latin American Studies really excite me because I love the study of diversity—I want to learn as much as I can about other cultures as a way to understand the world," said Huang, a Sociology major and Latin American, Caribbean, and Latino Studies minor.
Starting off her first year in an intermediate-level Spanish class, Huang found a love for the Spanish language and Latin American culture. The strong cultural affection began as Huang flipped through pages of her Spanish textbook, captivated by the photos of the bustling streets of Argentina, like nothing she had experienced in the United States. The classroom experience made her eager to immerse herself in a Spanish-speaking culture.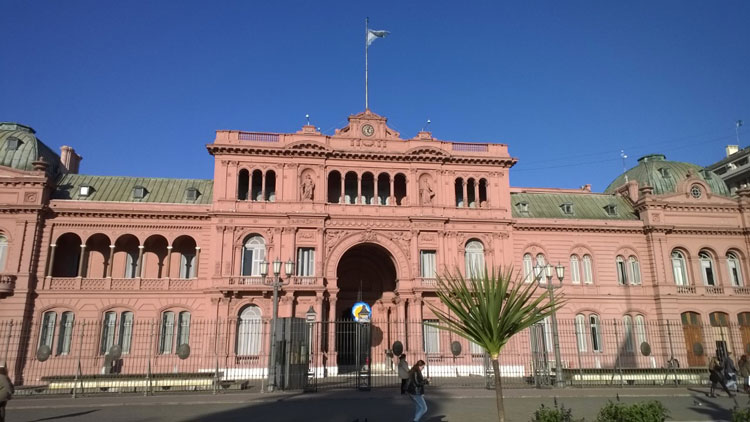 She decided to study globally. Huang's goal was to find a program that coupled her interests in public health, sociology, and Latin American studies. Buenos Aires, Argentina, fit the bill.
"In the fall of my junior year I traveled to Buenos Aires, Argentina, through a Gettysburg-affiliated SIT program, which was focused on public health in an urban environment," said Huang. "I was doing research and experimentation on the public health climate in Buenos Aires, and I was also conducting my own sociological research in Chinatown."
Huang's research in Chinatown, Buenos Aires, was a passion project of sorts, stemming from her interest in making comparative analyses of Chinese cultures prevalent in U.S. cities and those in Latin American cities.
"I grew up visiting a Chinatown in San Francisco, as it was somewhere I could explore my Chinese heritage," said Huang. "When I arrived in Buenos Aires, I was so happy to find that there was a Chinatown about an hour bus ride away from my homestay—I was really interested to see how it compared to the Chinatown I had grown up in, back in San Francisco."
Huang conducted her data collection by taking photos of streets, signs, and storefronts—capturing the architectural makeup of Chinatown.
"When I returned from Buenos Aires, my mentor on the project, Professor Voon Chin Phua, of the Sociology department, helped me to analyze the photos and draw conclusions about the Chinese culture and community within Argentina."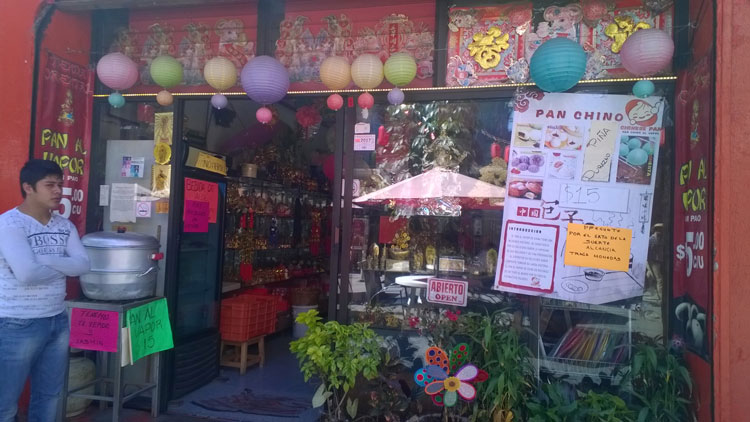 Huang's photo cultural research yielded some interesting discoveries about the fusion of Chinese and Argentinian cultures in Buenos, Aires.
"I found the culture of Chinatown in Buenos Aires to be a true melting-pot, as the citizens have created a new sort of identity in the celebration of both their Chinese and Argentinian heritages," said Huang. "Chinatown in Buenos Aires is small area geographically, but it was unique and unparalleled in its cultural combination of Chinese and Latin American influences."
Huang's sociological evaluations of the culture of Chinatown in Buenos Aires proved so novel that she was asked to present her findings at the Eastern Sociological Society Conference held in Boston last year. Moreover, as the daughter of Chinese immigrants in America, she was able to relate her own experiences to the people she met in her explorations of the Latin American city.
"I met people who, like me, had parents who were immigrants to Argentina from China and Vietnam, who were fluent in both Spanish and Chinese," said Huang. "It was really cool to meet those people and talk to them about our experiences as children of immigrants, learning a new culture, but also trying to maintain our Chinese heritage."
In her last semester at Gettysburg, Huang still works closely with Professor Phua through an independent study focused on sociological research of Chinese influences in Latin America. As for what's next, Huang plans to approach her future with the same humble ambition that she approached her studies at Gettysburg. By immersing herself in other cultures, she hopes to truly understand diversity and therefore the world.
"I have a lot of ideas for the future. I am hoping to eventually become fully trilingual, and maybe get a master's degree in Sociology," said Huang. "I'm super interested in languages, specifically Spanish and Chinese; I'm also interested in Latin American cultures, and I still could even see myself studying public health in the future.
"What I can say indefinitely—I know I want to spend a few years living, working and researching in Latin America."
Founded in 1832, Gettysburg College is a highly selective four-year residential college of liberal arts and sciences with a strong academic tradition. Alumni include Rhodes Scholars, a Nobel laureate, and other distinguished scholars. The college enrolls 2,600 undergraduate students and is located on a 200-acre campus adjacent to the Gettysburg National Military Park in Pennsylvania.
Article by Megan Decker '17, communications and marketing intern
Contact: Carina Sitkus, senior assistant director of communications, 717.337.6803
Posted: Mon, 20 Mar 2017

Next on your reading list
In his words: Ben Pontz '20 and the "essence of experiential learning"
---
The antidote for ignorance: A liberal arts education?
---
Creating social change: Ty Abdul-Karim '18
---
Share this story: