Reunion Weekend highlights: Alumni recognized for doing great work
Reunion Weekend is always a time for alums of any class year to return to campus, catch up with old friends, connect with professors, and celebrate their Gettysburg spirit.
This year's Reunion Weekend was no different. With the annual Sara Lee/Butter Krust Baking Gettysburg College Golf Classic celebrating its 25th anniversary, the Alumni College providing attendees an opportunity to return to the classroom, and an all-class reception and fireworks show on Saturday evening, there was plenty for our alumni to do.
The weekend—along with Commencement two weekends before—also served as an opportunity to elevate select alumni for accomplishments in particular categories: Distinguished Alumni, Meritorious Service, and Young Alumni Achievement in the areas of Career Development and Service to the College.
"These alumni are shining examples of what we mean when we say that a Gettysburg education sets you up to do great work and lead great lives," explained Susan Pyron '83, Associate Vice President for Annual Giving, Alumni and Parent Relations. "These awards are the highest ones given by the Alumni Association, and we are proud to recognize these alumni for their accomplishments and service."
The alums recognized this year join the ranks of other distinguished alumni like Three-Star General and Judge Advocate General Flora Darpino '83, Executive Director of UNICEF Carol Bellamy '63, former NAACP president and CEO Bruce Gordon '68, and founder and Chairman Emeritus of the Conservation Fund Patrick Noonan '65.
Check out photos from Reunion Weekend—and of the alumni award recipients—above, or view the photo album on Flickr.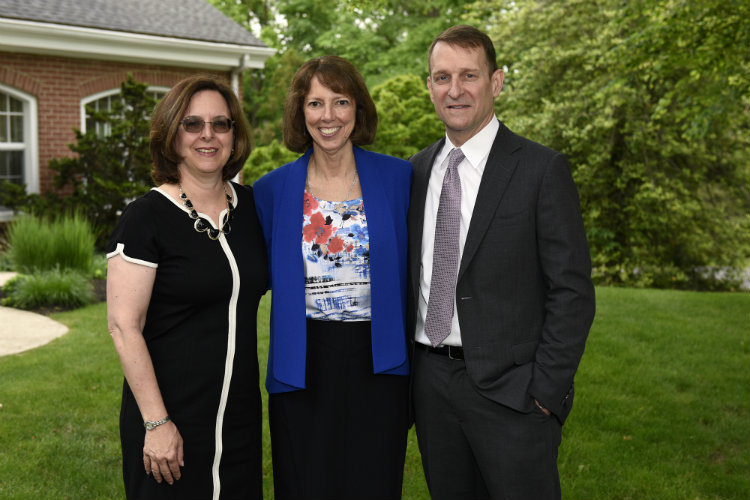 Dr. Inga Musselman '82, President Janet Morgan Riggs '77, and Dr. John Hohneker '81.
Dr. John Hohneker '81, Distinguished Alumni

John Hohneker '81 is President of Research and Development at FORMA Therapeutics Inc., a privately held biopharmaceutical company focused on finding new medicines for people with cancer and other serious diseases. He is also a member of the Board of Directors for Dimension Therapeutics Inc, a publicly traded gene therapy company.
Over the past 25 years, he has been committed to drug discovery and development, including 14 years at Novartis – where he was most recently responsible for the global development of the immunology, rheumatology, and dermatology product pipelines. He has played a key role in the development, approval, and/or commercialization of 14 new drugs.
Hohneker, a medical oncologist, has served on the research committee of the American Society of Clinical Oncology, as well as the Institute of Medicine's Cancer Policy Forum. Today, his contributions to the scientific community appear in numerous publications.
A member of Skeptical Chymists and Phi Beta Kappa at Gettysburg, Hohneker graduated with a BA in Chemistry. He received his MD from the University of Medicine and Dentistry of New Jersey, Rutgers Medical School (Robert Wood Johnson Medical School), in 1985.
Dr. Inga Holl Musselman '82, Distinguished Alumni
Inga Holl Musselman '82 is the Interim Provost and Professor of Chemistry at The University of Texas at Dallas. She has received numerous research grants and has contributed to a host of scientific publications, all while handling a progressively larger administrative workload. She also has six patents/patent applications for her exceptional work in the lab.
Following her graduation from Gettysburg, Musselman earned her PhD in Chemistry from the University of North Carolina at Chapel Hill in 1988, and completed her postdoctoral research in Materials Science from North Carolina State University in 1991.
Musselman was a member of the College's field hockey team and Skeptical Chymists. She graduated in 1982 with a BA in Chemistry and received departmental honors for her academic achievements.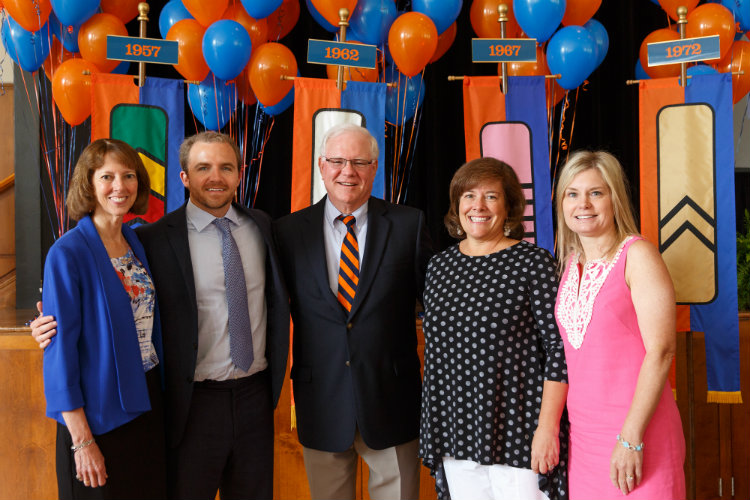 President Janet Morgan Riggs '77, Fred Reimer '07, MacGregor Jones '67, Sarah Hitch Burdi '87, and President of the Alumni Board of Directors and College Trustee Marsha Comegno '94.
Sarah Hitch Burdi '87, Meritorious Service Award
Sarah Hitch Burdi '87 graduated from Gettysburg College with a BA in Sociology and a minor in English, and served as an Orientation Leader, a member of PanHellenic Council and Alpha Delta Pi, was active with the campus radio station, WZBT, and was part of the American Marketing Association.
As a devoted alumna, she served on the Alumni Board of Directors from 2004 to 2013, including four years as the vice president of the Outreach Committee, and was also a key player in the birth of the Board's new Development Committee. Her volunteer service began immediately after she graduated as an Admissions Volunteer for the College's Key Alumni Resource Effort, and also includes service on several Reunion Committees—including co-chair for her 20th—as an active member of the Baltimore and Chicago Alumni Clubs, as a Class Agent, and as a Gettysburg Career Connections volunteer, through which she's hosted student externs, among other efforts.
She currently serves as Director at the Baylor Health Care System Foundation in Texas.
MacGregor Jones '67, Meritorious Service Award
MacGregor Jones '67 graduated with a BA in Business Administration and was a member of Phi Gamma Delta and the golf team.
Despite a demanding career in the computer field and as a business owner, he has made service to Gettysburg a priority. The pinnacle of that commitment came as a member of the Board of Trustees from 2000 to 2006, and he was conferred Trustee Emeritus status in 2010. Prior to that, he served on the Commission on the Future's Economics & Management task force, the Life Safety Task Force, the Sophomore Rush Advisory Committee, the Board of Fellows, the Alumni Executive Board, as a Class Officer, the Athletics and Recreation Facilities Committee, and as a frequent Reunion Committee volunteer.
He has been retired for the last 18 years, while still engaging in a variety of energy projects aimed at improving fuel and engine efficiency, as well as reducing harmful emissions.
D. Alan P.J. Manning '02, Young Alumni Achievement Award for Career Development
Alan Manning '02 is the Executive Vice President at Planetree, Inc., a mission-based non-profit dedicated to pioneering methods for personalizing, humanizing, and demystifying the healthcare experience. Also, he is Co-Founder and Vice President of Kisses from Katie, Inc., an organization dedicated to providing resources to critically ill children, their families, and the people who are dedicated to caring for them. His inspiration for both of these endeavors was the loss of his daughter, Katie, at six months of age due to a congenital heart defect.
As a student, Manning was heavily involved at Gettysburg College, serving as Residence Coordinator; President of Campus Activities Board; Service Intern for the Center for Public Service; Program Coordinator for Sandtown Projects and Literacy Programs; and a Student Representative to the Board of Trustees.
He received a BA in Psychology and Sociology from Gettysburg College in 2002. He later received his MA in Public Administration from Fairfield University in 2016.
Kimberly Wojcik '02, Young Alumni Achievement Award for Career Development
Kim Wojcik '02 has served as a Special Agent to the Federal Bureau of Investigation (FBI) since 2007 and is currently assigned to the Counterterrorism Division in Newark, New Jersey. She has worked investigations for both violent crimes against children and counterterrorism. Her efforts have earned her the designation of a Subject Matter Expert in Domestic Terrorism.
Wojcik operated as both a Uniformed Division Officer and Special Agent in the United States Secret Service from 2002-2007. She was entrusted the critical responsibility of providing protection to the President, Vice President, foreign heads of state and their families.
She graduated from Gettysburg College with a BA in Psychology and minor in Religious Studies in 2002. While at Gettysburg, she was a member of Gamma Phi Beta, a Project Manager for the Center for Public Service (CPS), an Orientation Leader, and she participated in the Semester at Sea in 2000.
Troy Cassel '02, Young Alumni Achievement Award for Service
Troy Cassel '02 graduated from Gettysburg College with a BA in Political Science and was a fully engaged student. He was a leader in Student Senate, the Lambda Chi Alpha Fraternity, and Allies, as well as a recipient of the Linnaean Award in 2001.
That engagement has continued as an alumnus. He has participated in the Garthwait Leadership Center Alumni Mentor Retreat, the Allies 25th Anniversary Panel, and the National Campaign Steering Committee for Gettysburg's Unfinished Work Campaign. Cassel served on his 15th Reunion Committee and currently serves as an Admissions Volunteer for the College's Key Alumni Resource Effort.
Professionally, he is the Director of Special Projects at Mobile Health, an employee screening and occupational health provider for more than 300 New York businesses.
Fred Reimer '07, Young Alumni Achievement Award for Service
Fred Reimer '07 was an incredibly active campus leader as a student, and that has continued to be his mantra as an alumnus.
He graduated with a BA in Economics and a minor in Mathematics and was a member of the varsity lacrosse team, President of the Phi Delta Theta Fraternity, and Student Senate Treasurer.
Reimer has been a key link in strengthening the nationally recognized Gettysburg Network by hiring 10 Gettysburg graduates, and has also served as the Phi Delta Theta Alumni House Corporation President. He's also involved with Phi Delt nationally, serving as a regional representative and resource for other chapters. With Gettysburg, he has also been an active and frequent participant in the Garthwait Leadership Center Alumni Mentor Retreat, served on the BOLD Council for five years, co-chaired his 5th and 10th Reunion Committees, and promoted Gettysburg to prospective students as an Admissions Volunteer for the College's Key Alumni Resource Effort.
Professionally, he is the Managing Director of KWA Analytics US, an energy and commodity trading consulting and software firm.
Founded in 1832, Gettysburg College is a highly selective four-year residential college of liberal arts and sciences with a strong academic tradition. Alumni include Rhodes Scholars, a Nobel laureate, and other distinguished scholars. The college enrolls 2,600 undergraduate students and is located on a 200-acre campus adjacent to the Gettysburg National Military Park in Pennsylvania.
Contact: Kasey Varner '14, assistant director of communications, 717.337.6806
Posted: Wed, 14 Jun 2017

Next on your reading list
In his words: Ben Pontz '20 and the "essence of experiential learning"
---
The antidote for ignorance: A liberal arts education?
---
Econ majors to learn from Chris Matthaei '01 gift, innovative software
---
Share this story: