Fulbright and Gettysburg College alums spoke with current students about
their experiences during a panel discussion held this past November.
How Gettysburg Fulbright Scholars become global leaders
For years, Gettysburg students from an array of backgrounds and majors have received grants from the Fulbright U.S. Student Program, and our alumni have gone on to pursue a variety of careers after their experience.
"The Fulbright Scholarship has a transformative effect on the recipients in the sense that they go on and do really interesting, often internationally related things," said Maureen Forrestal, dean of fellowships, scholarships, and undergraduate research & creative activity. "They have this zest for life and they seem to want to keep learning about new cultures and languages. They're global citizens and the impact of the Fulbright experience doesn't leave them, regardless of the amount of time that has passed."
The program provides two types of awards— open study/research grants and English Teaching Assistantships—both of which Gettysburg graduates have received.
Below, four alumni share how Gettysburg prepared them for the Fulbright program, and what they learned personally, culturally, and professionally from their experiences in England, India, Turkey, and Cameroon.
---
Marc Fialkoff '10
Major: Political Science
Minor: Chemistry
Fulbright: Study/Research Award
What he studied: Maritime transportation policy and freight transportation, looking at the various ports in the U.K. and how they utilized their land for multimodal freight operations.
Placement: University of Leeds, UK
Currently: Doctoral candidate at Virginia Tech in the Planning, Governance, and Globalization program. He is finishing his dissertation and teaching courses in Policy Implementation, Law of Critical Environmental Areas.

How Gettysburg prepared me for a Fulbright
"By the nature of my research, I had to be able to work in multiple disciplines, from planning and policy, to science and engineering. My interdisciplinary training came from my time at Gettysburg as a political science major and chemistry minor. In addition, my time as an Eisenhower Institute fellow allowed me to develop my interest in science and infrastructure policy so I could dive into the nuance and develop various perspectives on infrastructure, first from the U.S. and then from my experiences in the U.K.
"Applying for Fulbright challenged me to realize the skills, knowledge, and experiences I gained at Gettysburg. I did as much as I could while in the U.K, whether it was traveling to London for New Year's Eve, conducting field work in Finland, or learning to see the other side of an argument from a global perspective."
---
Archana D. Patel '03
Major: Political Science with an International Affairs Concentration
Fulbright: Study/Research Award
What she studied: Microfinance and its Effect on the Political Involvement of Women in Local Government
Placement: India
Currently: Legal and Regulatory Attorney at Fannie Mae
Where the research began
"During my Fulbright, I participated in the Dandi Yatra, which is the 24-day, 241 mile, path Mahatma Gandhi took through Gujarat to protest the British rule at the salt fields in Dandi. I walked the same path, through the same towns as Gandhi and chanted resistance slogans with fellow Fulbrighters much like India's freedom fighters did in 1930. The Dandi Yatra was a catalyst for India's civil disobedience against British Rule and participating in its 75th anniversary left me wanting to be a change-agent, regardless of where I live, and propelled me to be more active in civil society."

---
Adam Ortiz '10
Major: Political Science
Minor: Italian Studies
Fulbright: English Teaching Assistant Award
Placement: Nevsehir University, Turkey
Currently: Assistant Director of Admissions
Opportunities to Learn Abroad
"The most surprising aspect of the Fulbright Scholarship was the amount of freedom given to me during the program. I was able to travel throughout Turkey and especially with my students who came from all over. The hospitality and warmth they showed was amazing. I think my experience in the liberal arts prepared me with skills like adaptability, critical thinking/problem solving and the importance of being a life long learner," he said.
Ortiz's interests in Turkey stemmed from a Political Science class he took with Professor Yasemin Akbaba, who is Turkish: "She really opened my eyes to the complex position Turkey holds in this world, and was such a help through the process."

---
Anne Leak '08
Major: Physics
Fulbright: Study/Research Award
What she studied: Girls' access to science and math education
Placement: Cameroon, Africa
Currently: Postdoctoral Researcher at the School of Physics and Astronomy, College of Science, Rochester Institute of Technology
Connecting Coursework to a Greater Purpose
"Gettysburg College inspired me to make meaningful connections across my coursework, not just in an interdisciplinary course here and there, but in actually learning practices and ways of thinking that are beneficial outside the classroom where they are first taught.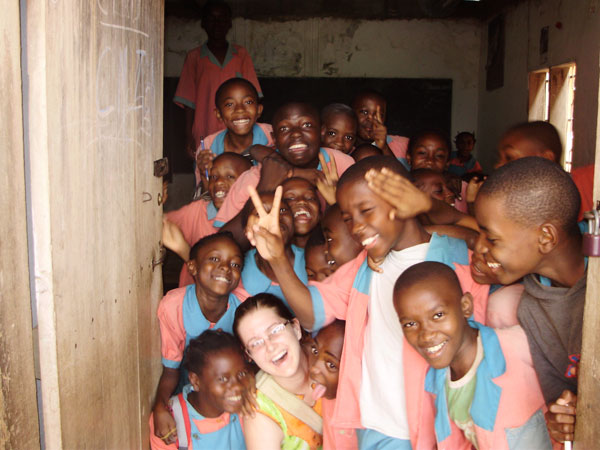 "I learned that the Fulbright Scholarship is truly an exchange of learning and ideas. It also helped me focus on baseline education issues I had never had to consider. For example, you can't even begin to learn science as a teenage girl if you don't have access to a latrine or place to wash with clean water. Even more fundamental, you cannot learn well at all if you do not have adequate health, nutrition, and water needs met. I also learned that these problems are best solved through partnerships with local communities who truly understand their needs and potential solutions. This realization encouraged me to join Engineers without Borders in graduate school and eventually led to my dissertation work on community-driven science education in Kenya."
Learn more about the competitive Fulbright U.S. Student Program.
Founded in 1832, Gettysburg College is a highly selective four-year residential college of liberal arts and sciences with a strong academic tradition. Alumni include Rhodes Scholars, a Nobel laureate, and other distinguished scholars. The college enrolls 2,600 undergraduate students and is located on a 200-acre campus adjacent to the Gettysburg National Military Park in Pennsylvania.
Article by Sydney Braat '18, communications and marketing intern
Photo of panel discussion by Khun Minn Ohn '18
Contact: Carina Sitkus, senior assistant director of communications, 717.337.6803
Posted: Sun, 12 Mar 2017

Next on your reading list
Economics majors find career success across industries
---
Enhancing our campus, inspiring new learning
---
Unexpected connections lead Elise Sondheim '15 to Under Armour
---
Share this story: