Only two German-language copies of the Declaration of Independence exist. The College owns one
The Second Continental Congress knew for weeks prior to declaring independence from Britain that reconciliation between the colonies and the king was not an option. They even appointed a committee to begin drafting a formal announcement on June 10, 1776.
A few short weeks later, Congress voted unanimously in favor of independence and ratified the Declaration of Independence.
Now the only question was how they would share this news with the public.
Overnight, 200 copies of the Declaration were printed on broadsides—large documents cheaply and quickly produced—that were distributed throughout the colonies. But in a country comprised of immigrants, 200 English-language copies of the Declaration would not be enough to spread the news and encourage patriotic sentiment.
Copies were translated—most notably into German—and put into circulation as early as July 6. They were shared widely, read proudly, and then largely forgotten and lost to history, as was commonly the case with broadsides.
Only two of the German-language broadsides are known to have survived the eighteenth century. Of those two, only one remains in the United States, and it's owned by Gettysburg College.
The document was discovered by a visiting scholar in 1984 amid some German language materials in Musselman Library's historical collections. It is currently on loan, serving as the centerpiece of a temporary exhibit at the newly-opened Museum of the American Revolution in Philadelphia.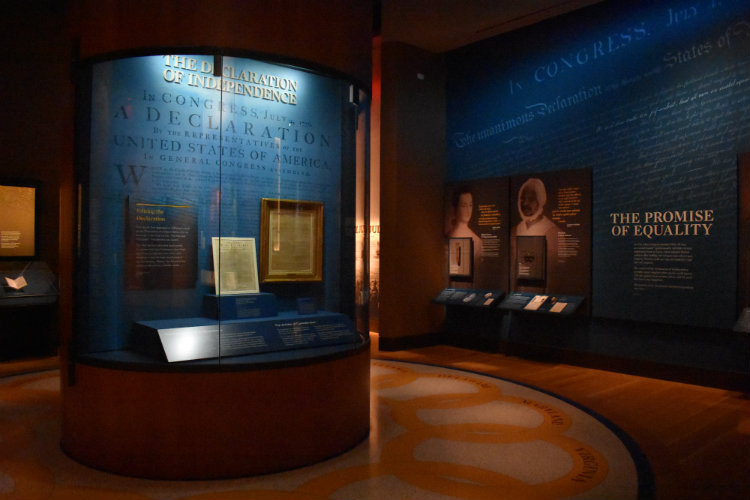 "It's not a pretty document, but it has a powerful presence," said philosophy Prof. Daniel DeNicola, who researched and arranged for appraisal of the document while serving as the College's provost in the 1990s. "It remains a unique and spectacular find for the College."
Set in a gothic script and translated into an older version of German that may be difficult for contemporary speakers to understand, the 16" by 12 ¾" document has yellowed over the years but otherwise remains in excellent condition.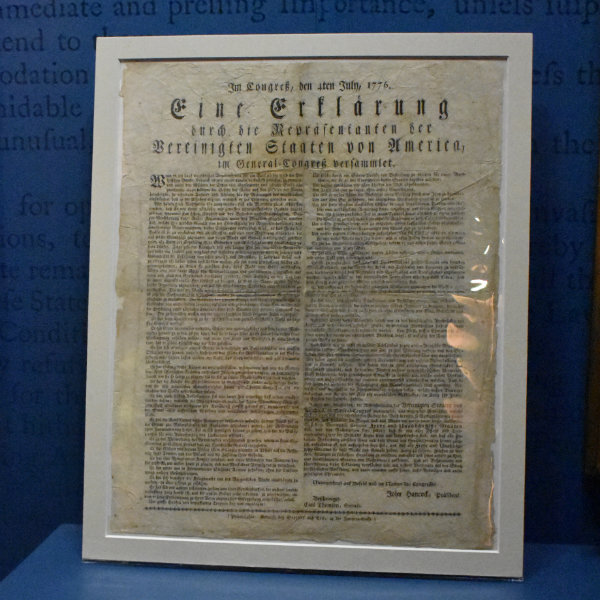 Once it was uncovered, the discovery was announced in a scholarly article published in 1985. Since then, it's been made available for public use through the College's digital collections and has been seen by appointment only in the Special Collections Reading Room at Gettysburg College.
History Prof. Timothy Shannon regularly uses the broadside for his course on Revolutionary America. According to Shannon, the German-language broadside elevates the political significance of German immigrants in eighteenth-century Pennsylvania, and the necessity of swaying their support.
"Generally speaking, recent immigrants were less likely to support the patriot cause than native-born colonists because they were less familiar with the grievances that sparked the Revolution," said Shannon. "A lot of German immigrants felt a loyalty to the Hanoverian kings, a dynasty with German roots. The patriots were making their case to the large population of German immigrants, if for no other reason than to discourage them from acting as loyalists."
Director of Special Collections and College Archives Carolyn Sautter believes its value goes a step further than tempering German support for the British king by also appealing to a shared longing for equality.
"This document shows that the words and sentiments expressed in the Declaration of Independence were meant for all Americans," Sautter said. "It is a clear statement of intent: All men are created equal, no matter what language they speak within our borders."
Its historical significance and contemporary implications are part of the reason why Sautter was so committed to share the document with the brand new Museum of the American Revolution after receiving their request. The opportunity seemed a perfect fit.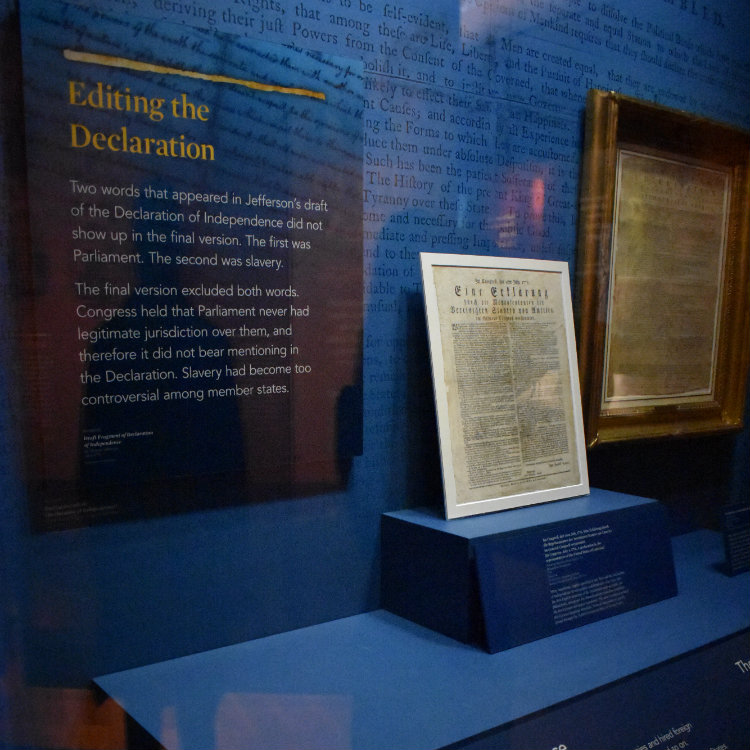 It's an opportunity the museum is just as grateful for, as well.
"For a new institution dedicated to exploring the history and legacies of the American Revolution, and particularly those lesser known stories that provide richness and depth for our visitors, we are deeply honored by Gettysburg's generosity in placing on loan one of its rarest treasures," said Vice President of Collections, Exhibitions, and Programming at the Museum of the American Revolution Scott Stephenson. "This July 1776 German-language printing of the Declaration of Independence reminds us that the United States has been a diverse, multilingual nation since the moment of its birth."
The broadside will be on display at the Museum of the American Revolution in Philadelphia until December 14. Anyone who is interested in learning more about it can view it in person at the museum, access the digital copy as part of Special Collections' Early American Documents GettDigital Collection, or read more in the library's publication, 30 Treasures, 30 Years.
Founded in 1832, Gettysburg College is a highly selective four-year residential college of liberal arts and sciences with a strong academic tradition. Alumni include Rhodes Scholars, a Nobel laureate, and other distinguished scholars. The college enrolls 2,600 undergraduate students and is located on a 200-acre campus adjacent to the Gettysburg National Military Park in Pennsylvania.
Contact: Kasey Varner '14, assistant director of communications, 717.337.6806
Posted: Mon, 3 Jul 2017

Next on your reading list
In his words: Ben Pontz '20 and the "essence of experiential learning"
---
The antidote for ignorance: A liberal arts education?
---
Econ majors to learn from Chris Matthaei '01 gift, innovative software
---
Share this story: